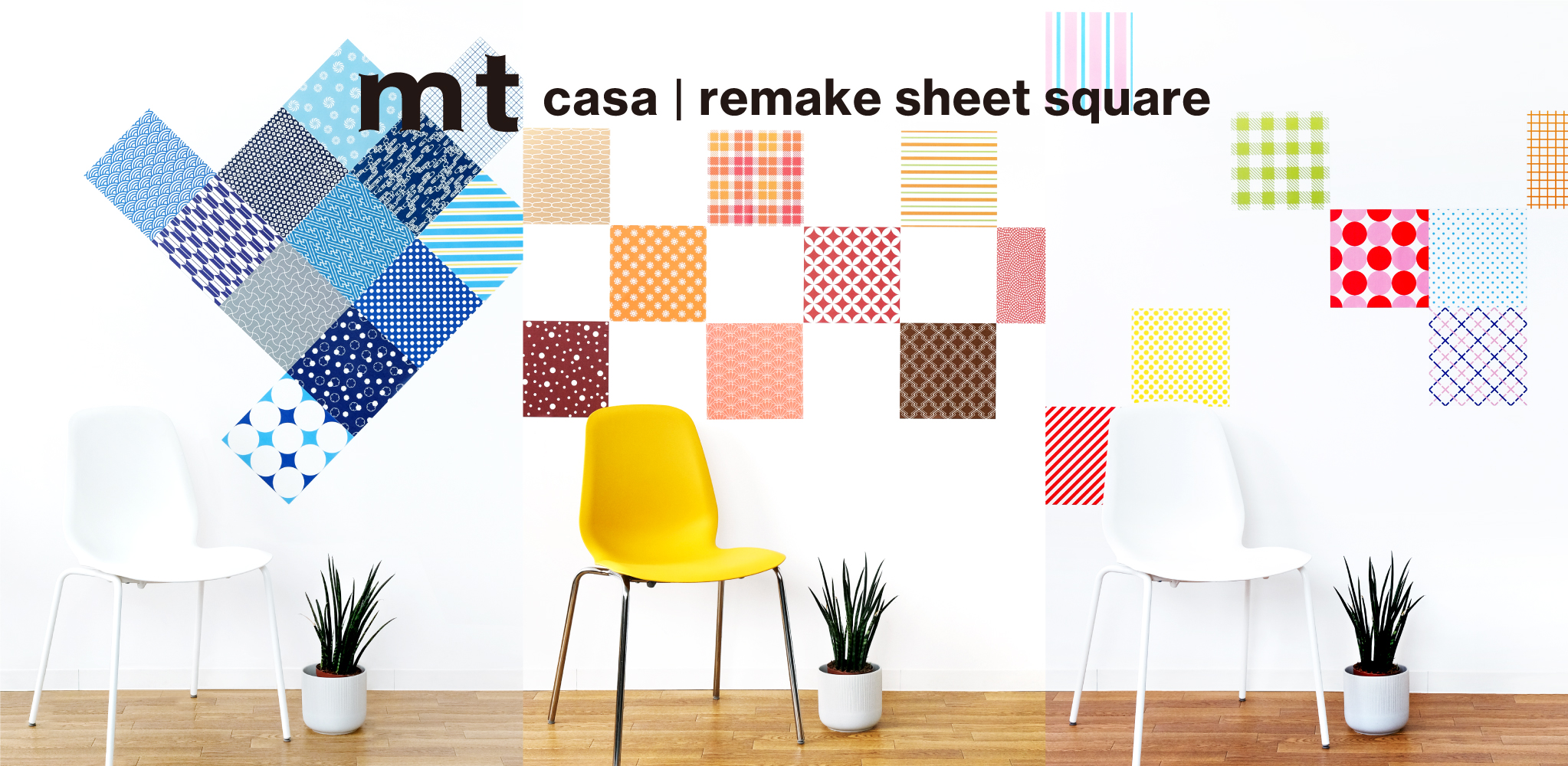 Square-shaped Remake sheets are now available in 50 designs.

Remake sheets are perfect for decorating rented spaces as they are easy to apply and remove without damage.
With a wide range of colours and patterns, you can create your own unique decoration exactly as you wish.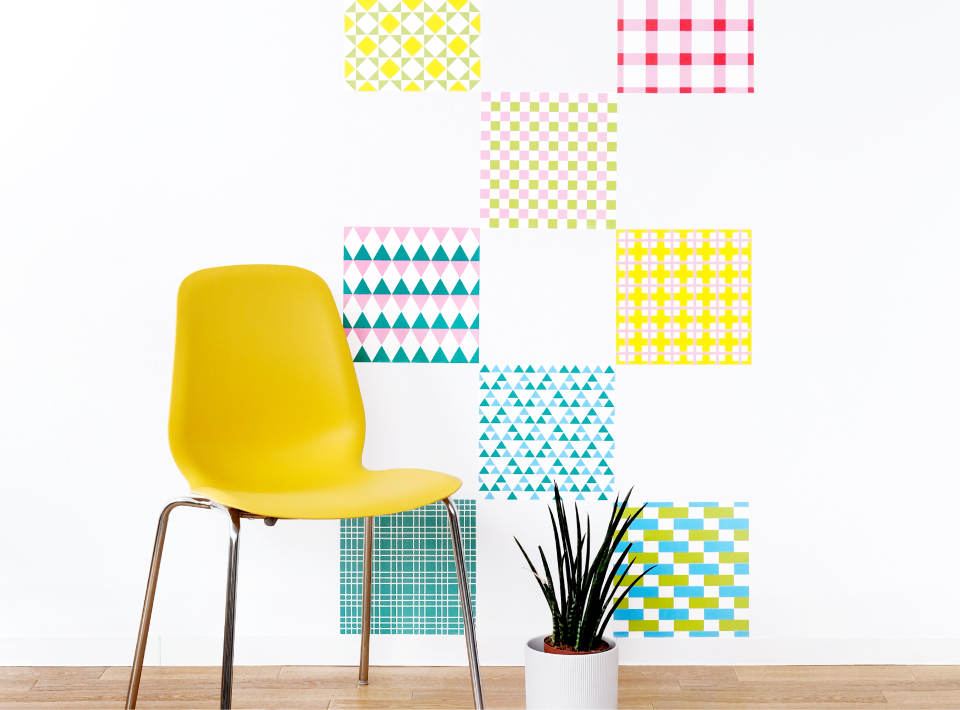 Would you like to decorate your walls with the same free feeling of art and fabric panels?
Repositionable sheets make decorating enjoyable as it's so easy to correct mistakes or change the design.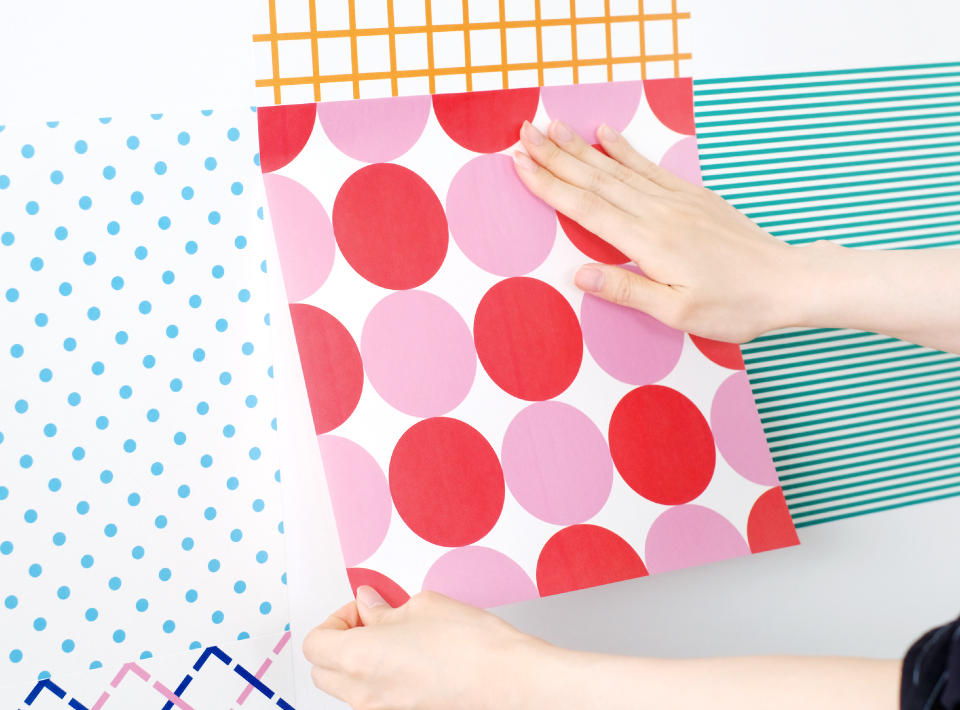 "Deco Brick"

Would you like to create a three-dimensional effect? Just apply the Remake sheet squares to cardboard 'bricks'. This will give a rhythmic and interesting effect to your walls. Choose a design that matches the colour of your interior.
mt CASA remake sheet square

Precautions for use: Depending on the place where the product is adhered, the surface may be peeled off or the adhesive may remain. Please test on an inconspicuous area before using.
NEW ITEM

mt CASA remake sheet square 270×270mm
geometric pattern
remake sheet square
dot navy

remake sheet square
dot light blue

remake sheet square
dot yellow

remake sheet square
border green

remake sheet square
border orange × yellow green

remake sheet square
border light blue × pink

remake sheet square
stripe red

remake sheet square
stripe light blue × yellow

remake sheet square
hougan orange

remake sheet square
hougan light blue × navy

remake sheet square
hougan pink × yellow

remake sheet square
check yellow green

remake sheet square
check pink × red

remake sheet square
check orange × red

remake sheet square
checker pink × yellow green

remake sheet square
cross navy × pink

remake sheet square
cross pink × yellow green

remake sheet square
cross orange × yellow

remake sheet square
cross green × yellow green

remake sheet square
circle pink × red

remake sheet square
circle light blue × navy

remake sheet square
sankaku green × light blue

remake sheet square
diamond green × pink

remake sheet square
diamond yellow × yellow green

remake sheet square
brick light blue × yellow green
Japanese pattern
remake sheet square
samekomon benihi

remake sheet square
yagasuri honmurasaki

remake sheet square
asanoha kokeiro

remake sheet square
seigaiha konpeki

remake sheet square
shichihou akaneiro

remake sheet square
ararekomon shakudouiro

remake sheet square
hanabishi ougon

remake sheet square
nejiriume koubaiiro

remake sheet square
ajiro hashibamiiro

remake sheet square
kumikikkou usumoyogi

remake sheet square
mimasugoushi hanarokusho

remake sheet square
yukiwa konai

remake sheet square
kikuseigaiha shinonome

remake sheet square
sayagata nandoiro

remake sheet square
higaki nasukon

remake sheet square
fundoutsunagi rikyunezumi

remake sheet square
kanzemizu noshimehanairo

remake sheet square
kagome tuchiiro

remake sheet square
kemanmon byakugun

remake sheet square
takejima moyogi

remake sheet square
sankuzushi kanariairo

remake sheet square
kanoko koiai

remake sheet square
matsukawabishi kurocha

remake sheet square
karakusamonyou fukamidori

remake sheet square
kuyou kicha