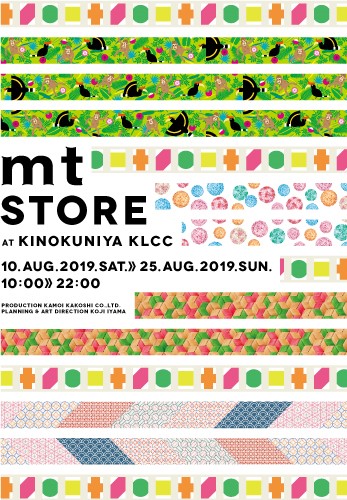 ◎ News: mt store at Kinokuniya KLCC ◎
We will be holding mt event in Malaysia from 10th August to 25th August.
Event title : mt store at Kinokuniya KLCC
Date : Sat. 10th - Sun. 25th August
Opening hours : 10:00 - 22:00
Location : Kinokuniya Bookstore KLCC
Address : Lot 406-408 & 429-430, Level4, Kuala Lumpur City Centre, 50088, Kuala Lumpur, Malaysia
Activities: 
・Limited edition tapes (5 designs + complete set)
・Limited edition notebook (4 designs)
・Gacha
・Workshop
・Event Stamp
*We cannot guaranty the quantity of the Limited Tape due to the foreign event. We might take long time to restock or might not restock the Limited Tape after Sold-out.
*3 rolls per design can be purchased at the casher
*We will give away either DM or poster to customer who purchased mt
*If you purchase more than RM200, you will receive a mt special picnic sheet
*Any type of credit card can be used at Kinokuniya bookstore
Look forward to seeing you there!