ARTIST SPECIAL COLLABORATION
The Japanese and overseas special artists who always creatively color mt have delivered special designs to commemorate our "100th anniversary." Collaborating with these artists, mt will continue to try out new possibilities for masking tape expressions.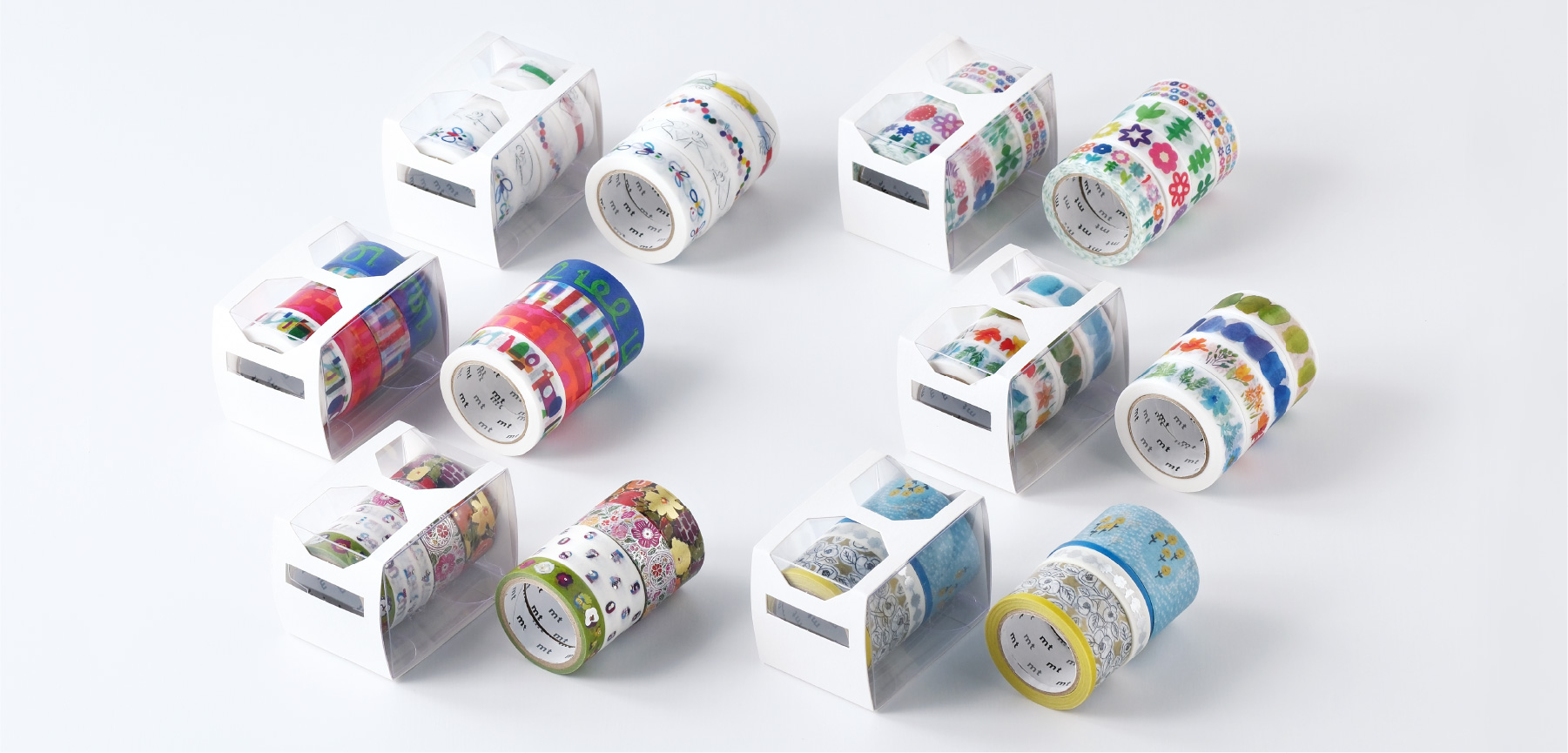 100th Anniversary sets

Dagashi sweets depicted on masking tape? A dream collaboration has been realized.
Sakuranbo Mochi, Big Katsu, Umaibo, Yocchan Ika, Yatta Men, Tirol Choco, Cocoa Cigarette… Popular characters from beloved Japanese-style dagashi sweet brands are depicted on mt! These designs make both children and adults smile.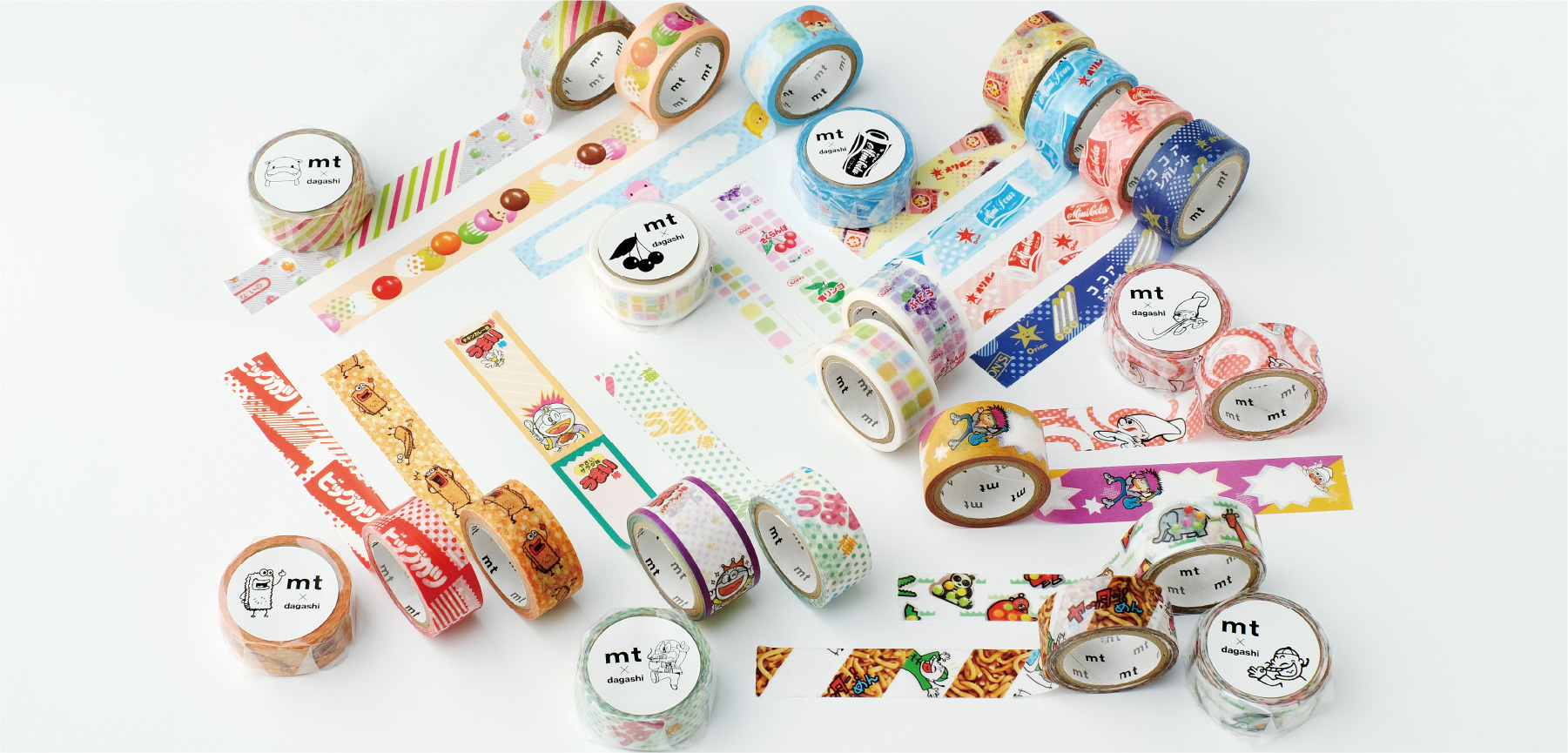 dagashi
sakuranbo mochi pattern (15mm×3m)

sakuranbo mochi series (18mm×3m)

yatta-men stripe (15mm×3m)

animal land choco (15mm×3m)

big-katsu pattern (15mm×3m)

Mr. big-katsu (15mm×3m)

umaibou pattern (15mm×3m)

umaibou memo (18mm×3m)

taratarashitenjane-yo speech balloon (18mm×3m)

yotchan (15mm×3m)

mini coke (15mm×3m)

mini sour (15mm×3m)

ume mints (15mm×3m)

cocoa cigarette (15mm×3m)

fortune-telling choco stripe (15mm×3m)

color choco (15mm×3m)

un choco speech balloon (15mm×3m)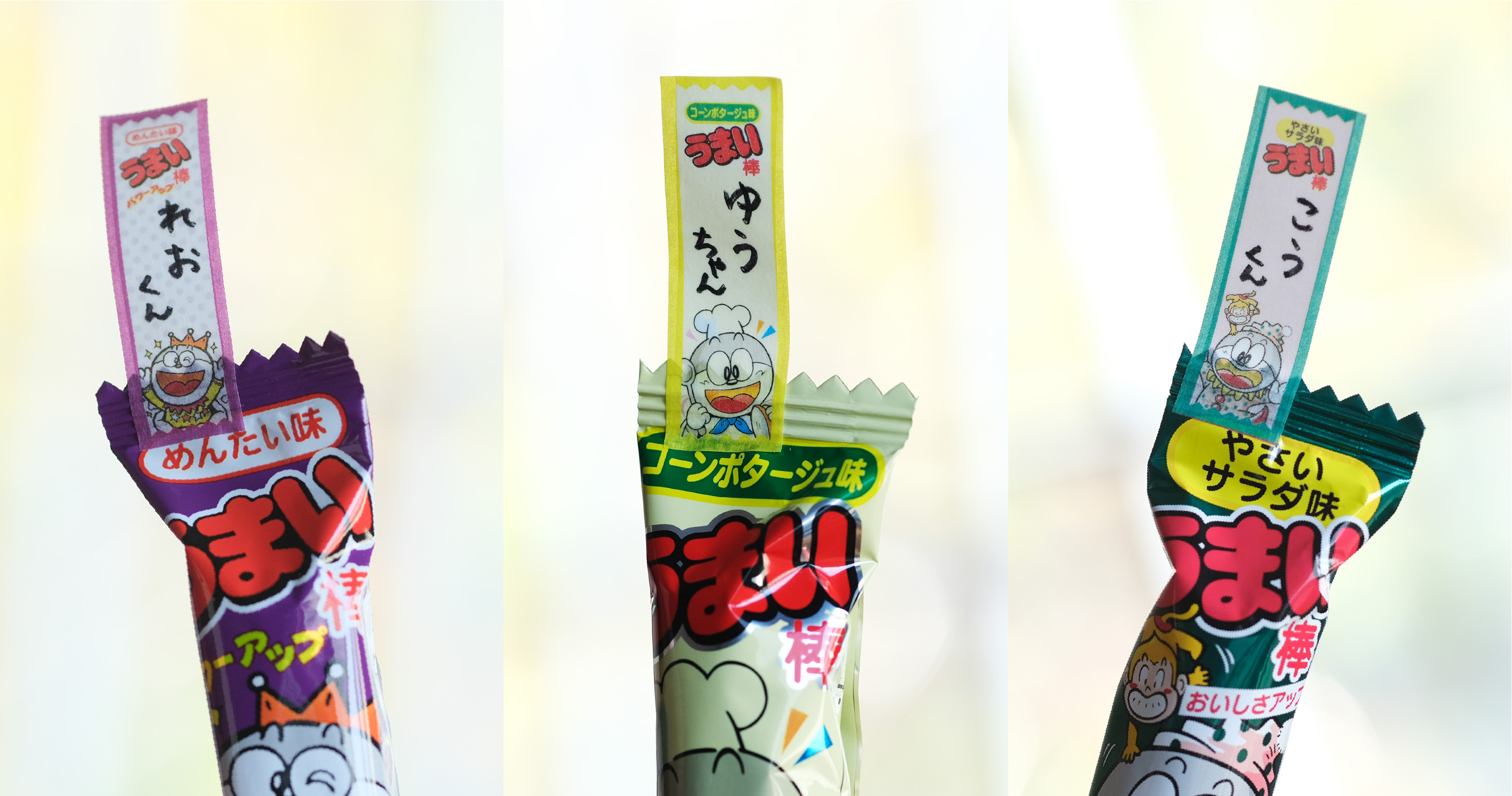 These illustrations with stories to tell come in 5 new designs that bring out the desire to create.
New patterns have been released in the ex series, which expands the possibilities for masking tape expressions. Each tells a different story – from tales involving Mt. Fuji, cookies, fragrant olive flowers, killifish, and baby goods. These beautiful graphic designs all overflow with the scenes used and their imaginative power.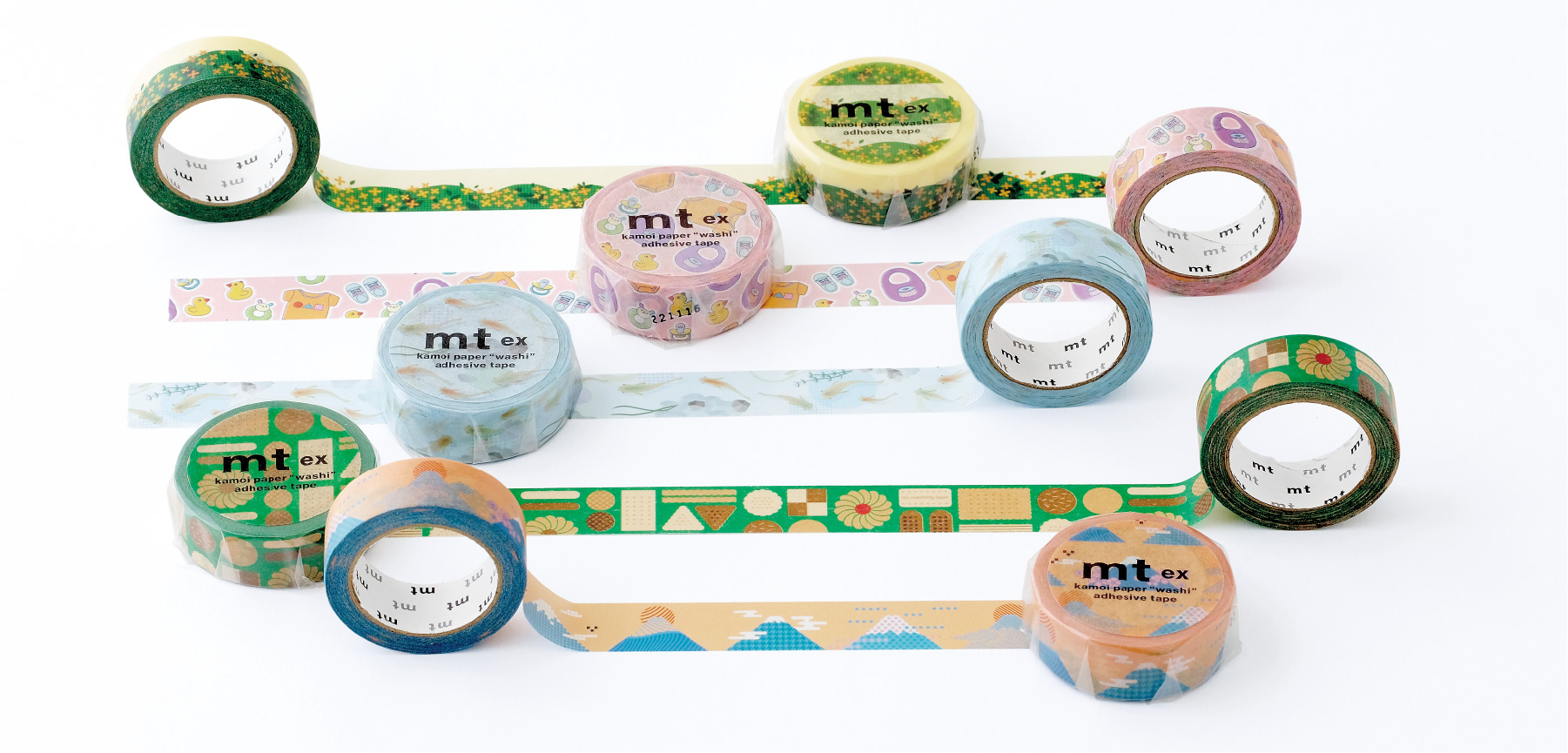 ex(15mm×7m)
mt ex Mt.Fuji graphic

mt ex geometry cookie

mt ex fragrant olive

mt ex killifish

mt ex baby goods

Gingham check patterns that excite users.
These new richly expressive Gingham check patterns come in 5 types. They are somehow nostalgic and fresh at the same time. With various lines that overlap and pile up on top of each other, joyous rhythms and new colors are born.
basic(15mm×7mm)
delicate checkered black

stripe checkered pink

thick checkered green

overlap checkered orange

colorful checkered blue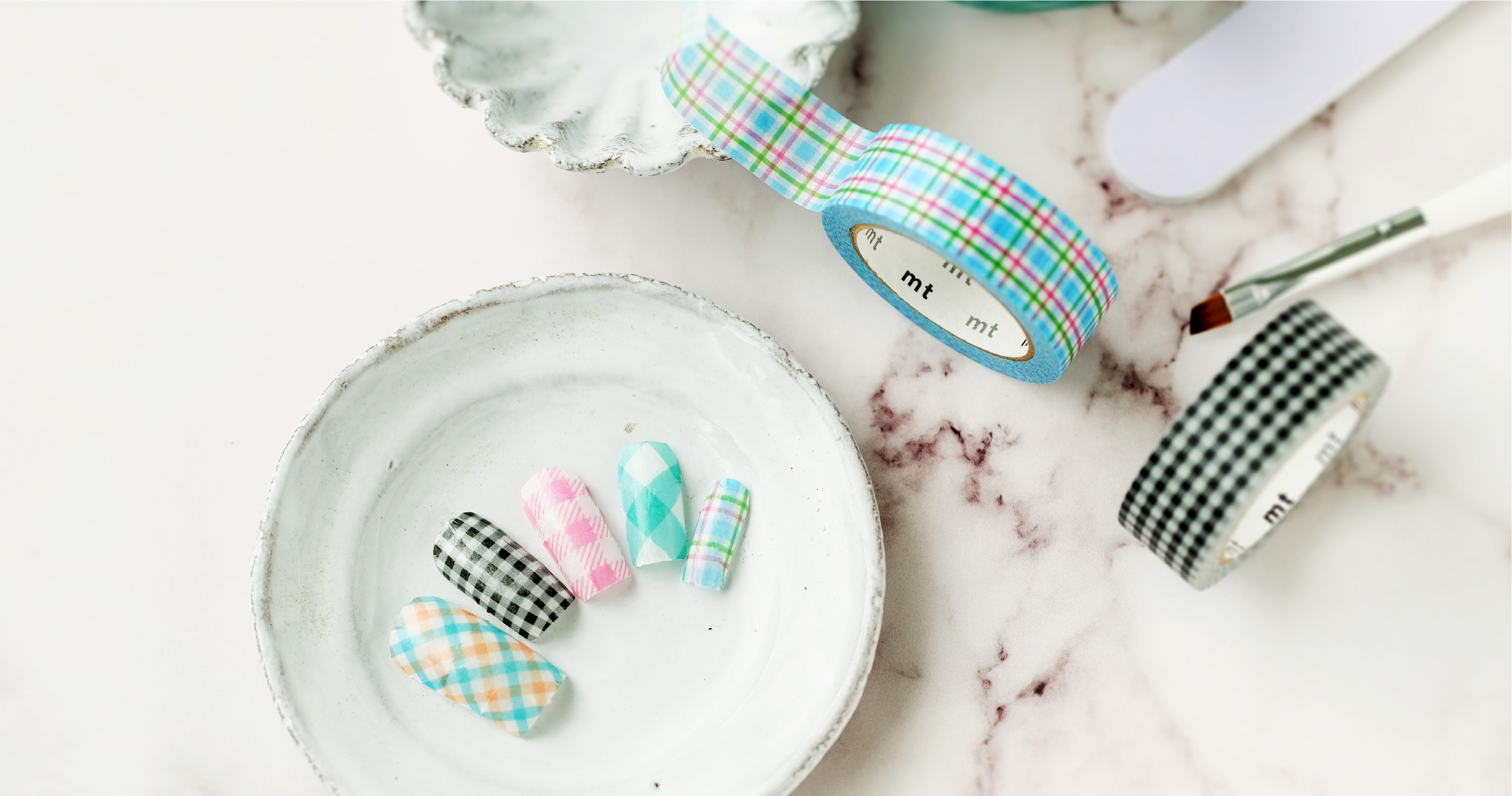 Pop and pastel patterns join this wide tape series that can be used completely freely.
This easy-to-use wide tape is great for when you want to change the colors and patterns of large surfaces such as boxes and files. Tear them and overlap them to enjoy new expressions. Enjoy these happy colored patterns that brighten up your daily life and spaces.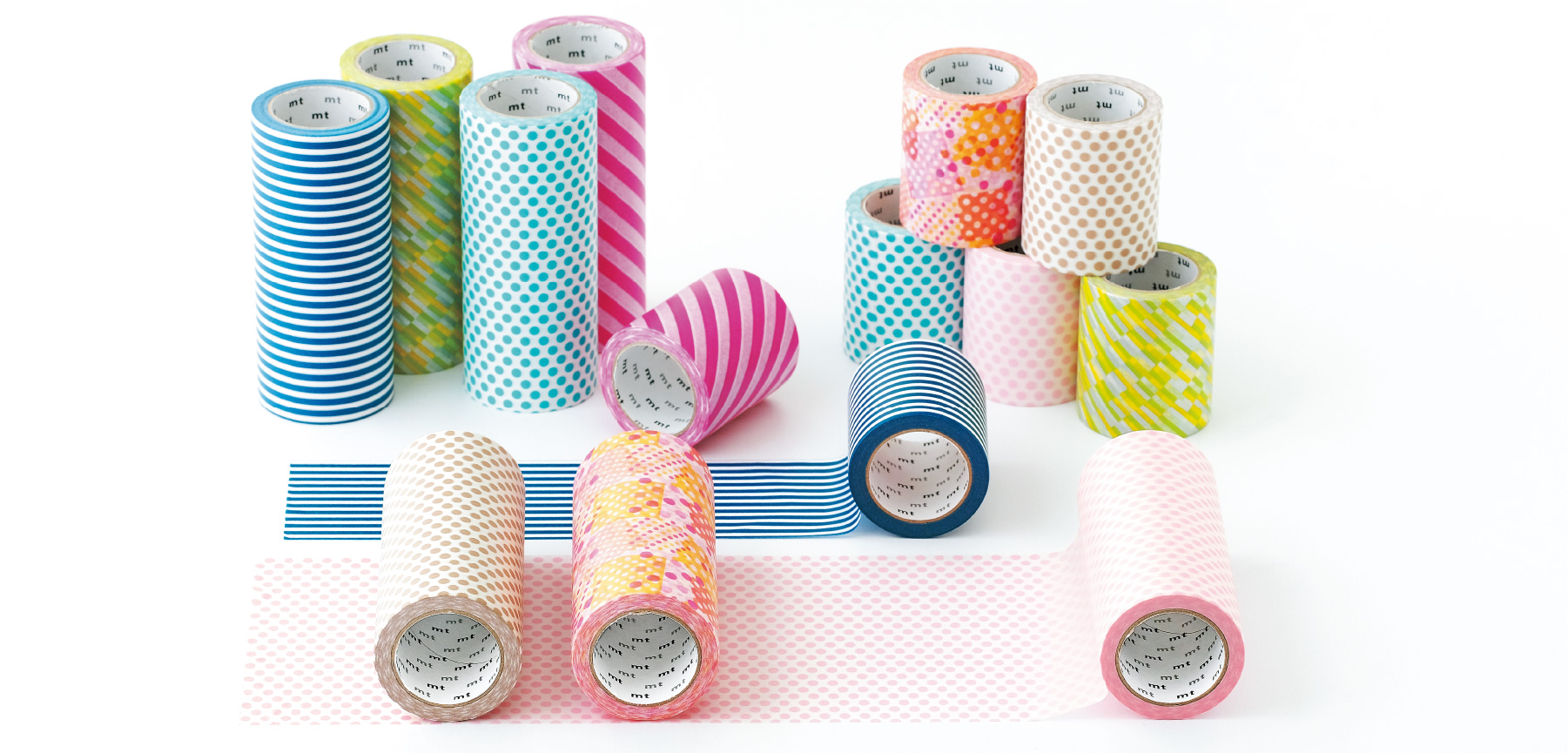 basic(50mm×7mm,100mm×7mm)
dot strawberry milk

dot soda

dot milk tea

stripe magenta

border indigo

negapoji dot pink

block stripe green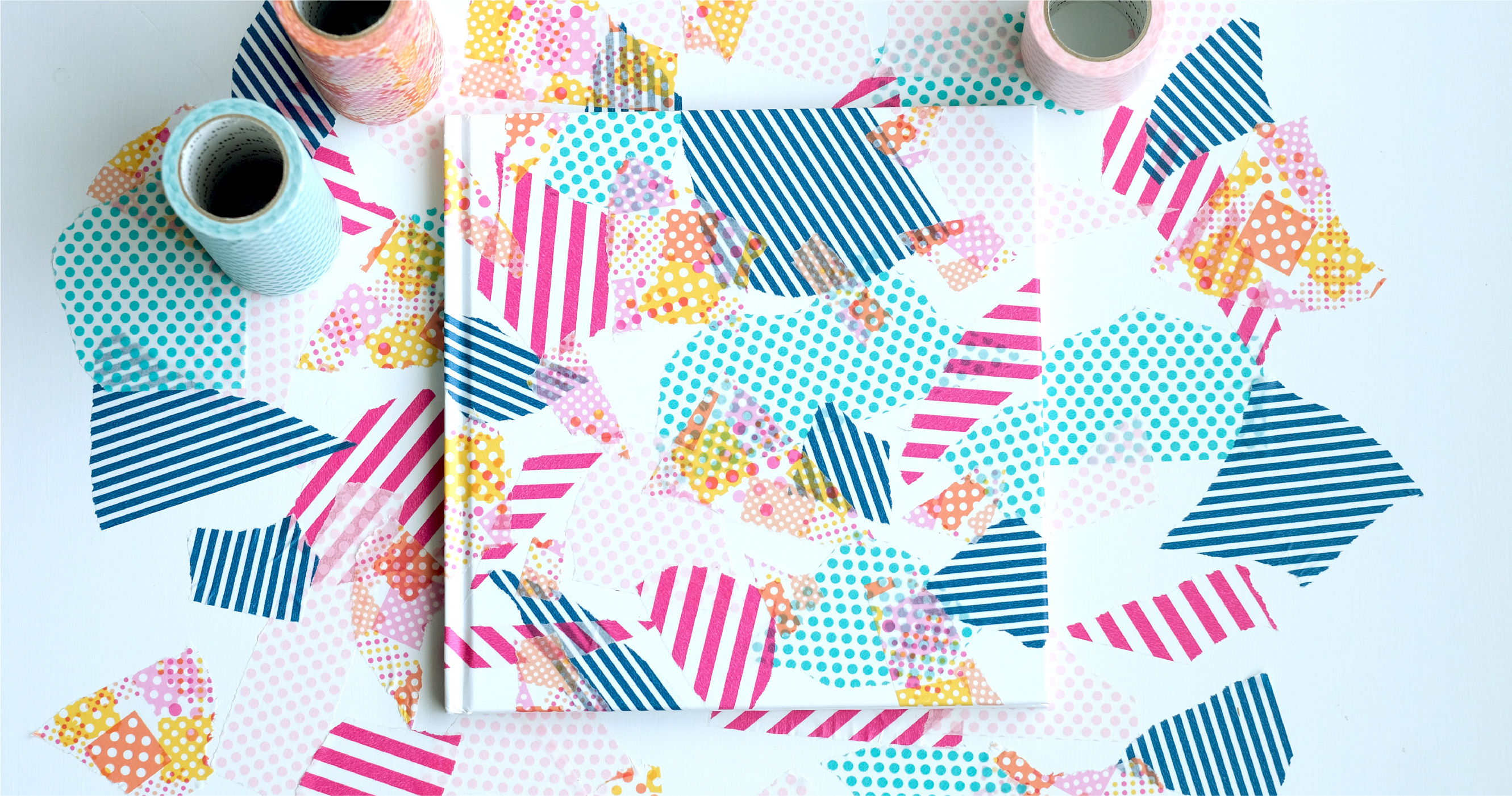 It makes for a perfect present! Our special Gift Box makes its debut!
Our special gift set has been released. It adopts new textures for the first time, such as "high brightness" and "matte." The colors and patterns are coordinated in an easy to match way, so if you have 1 box on hand, you can use them in a variety of arrangements.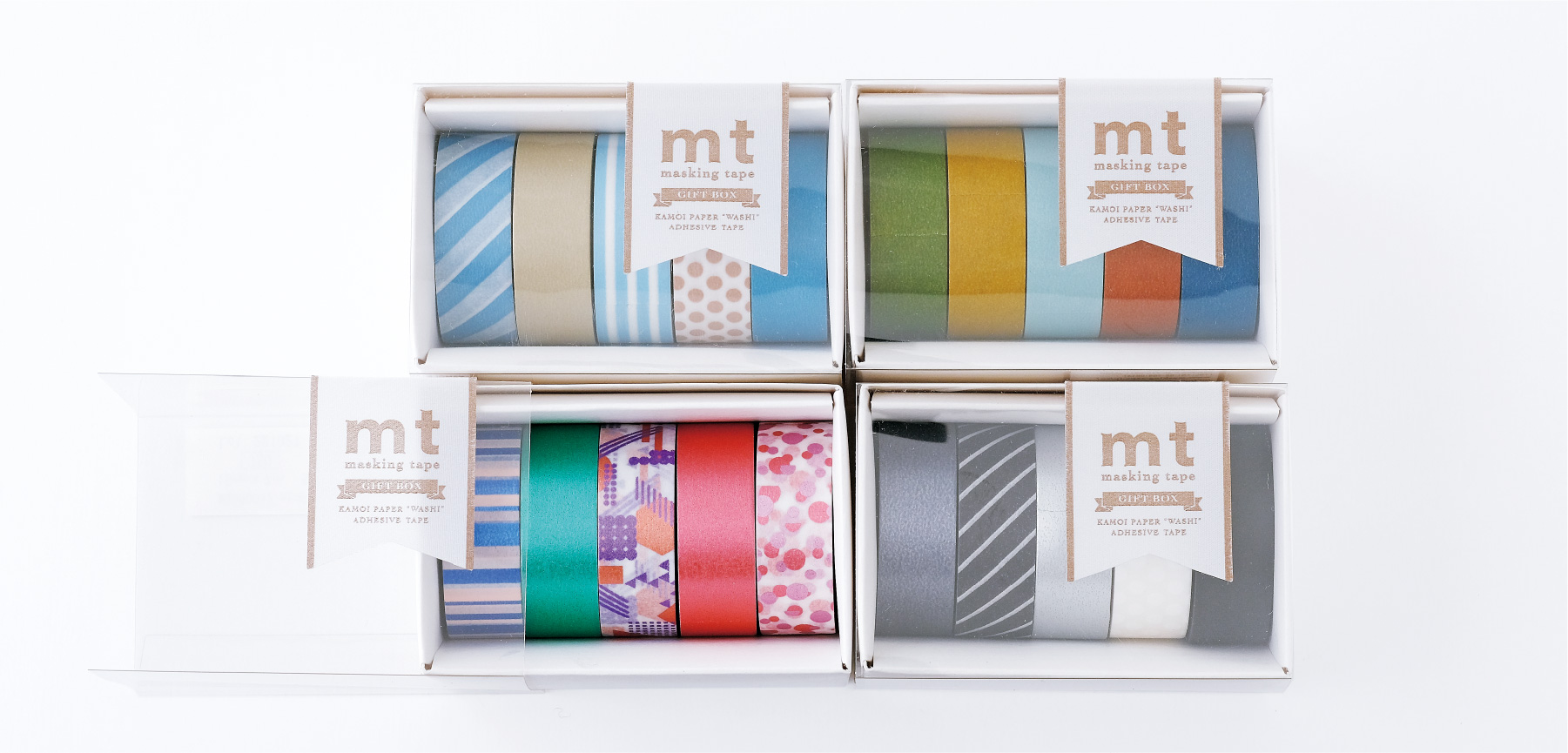 basic/Box Set(15mm×7mm,5 rolls contained in a pack)
mt giftbox bright

mt giftbox matte

mt giftbox grayish

mt giftbox monotone3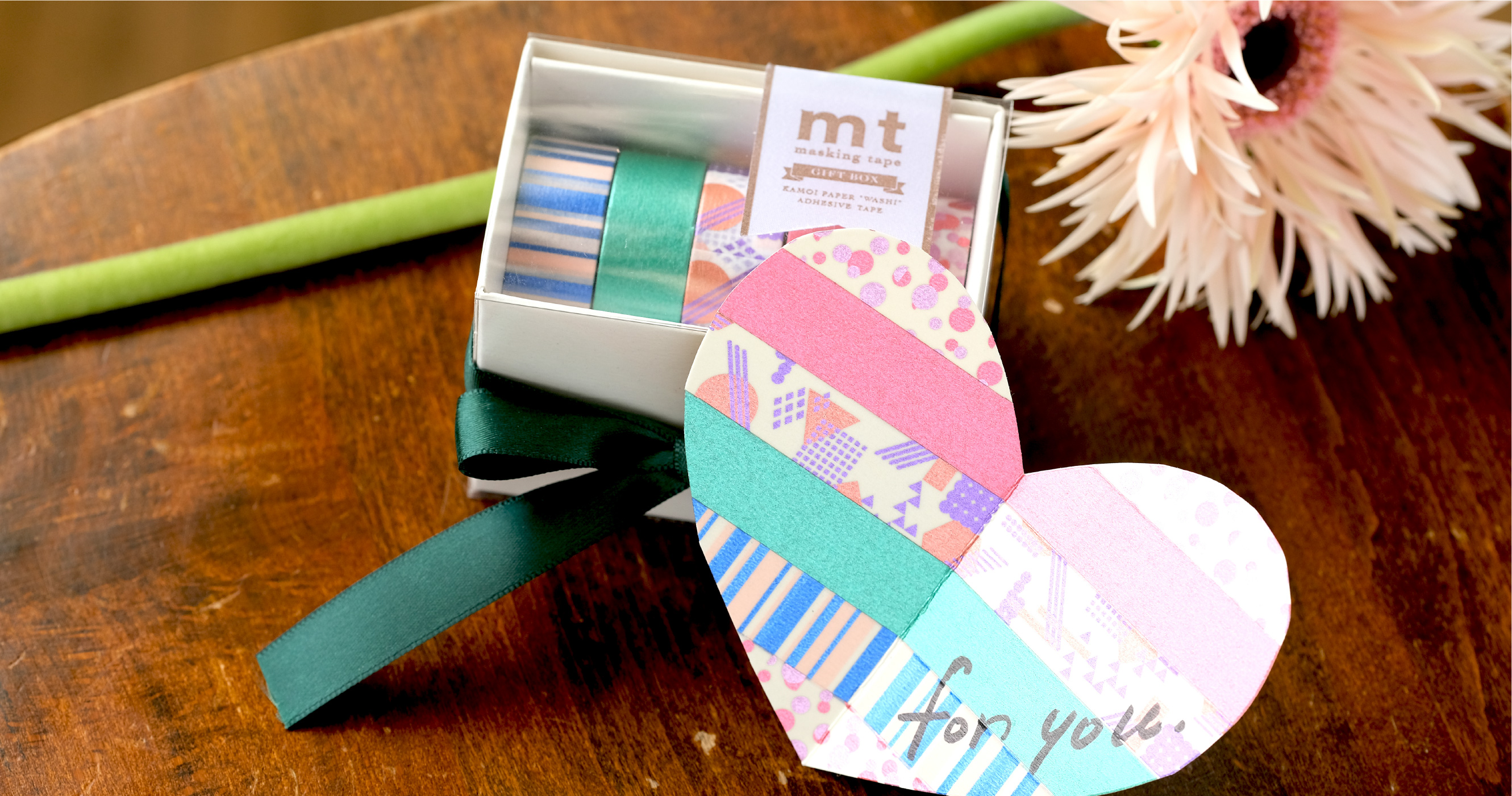 New patterns have been released for "PAPIER TIGRE," the stationery brand from Paris.
"Wave" drawn with chic colors. "Alphabet letters" and "Numbers," ideal for use in bullet journals and message cards. There are 3 patterns with PAPIER TIGRE designs which have enjoyable and practical functions even after first using them. Incorporate them in your new life starting from spring.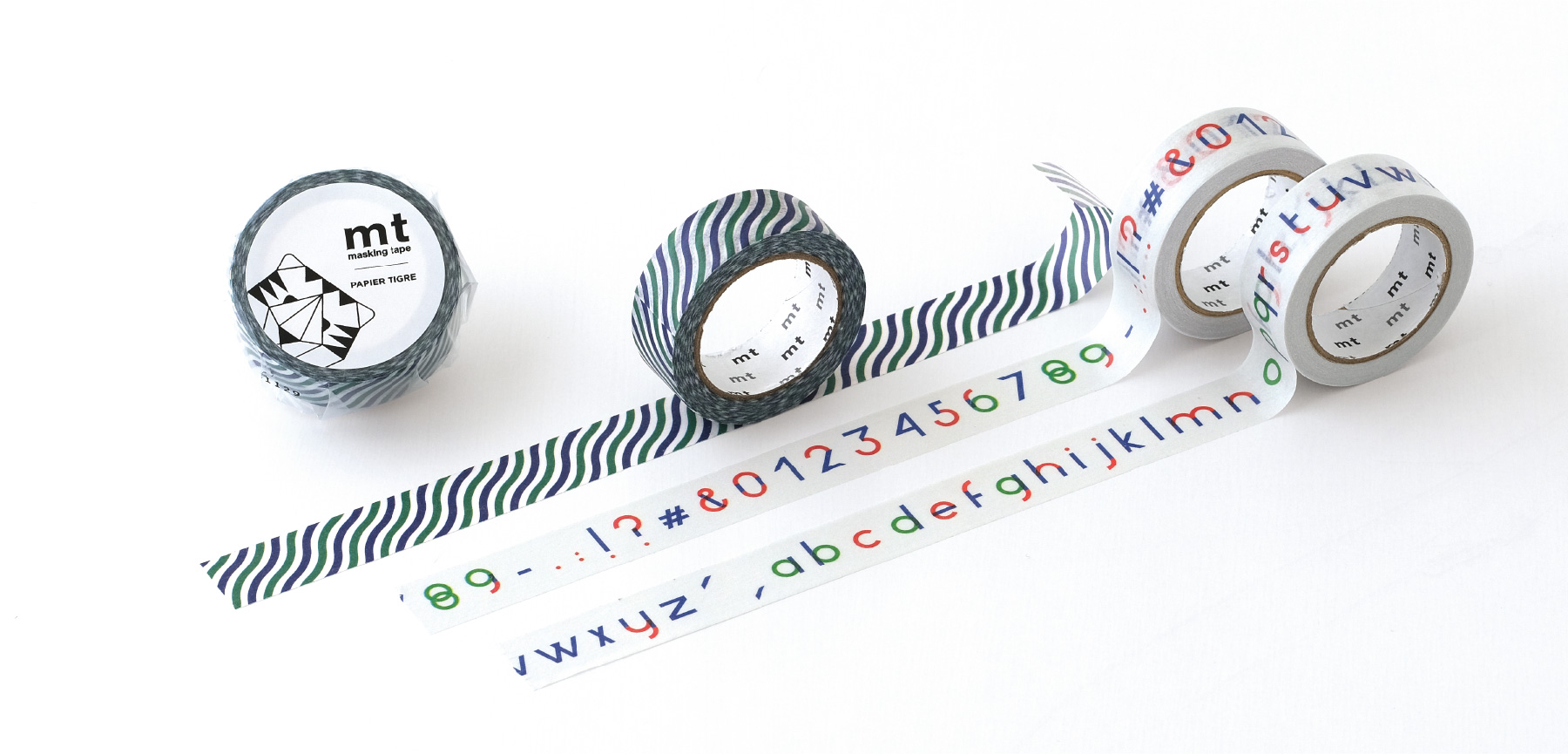 PAPIER TIGER
PAPIER TIGRE is a product brand established in 2012 in Paris, and manufactures mainly stationary products. Originally, they were not a stationery expert, but started with a desire to start something innovative with a creative team. Their key concepts are "Innovation" and "Creation". They develop their original items by focusing not only on the design, but also fun to use with considering the importance of graphics, playfulness and practicality. They also design products based on colors, motifs, and designs with a motto of "zero-barrier" that not be bound by any applications and categories. They are excited to deliver high quality "life accessories" from their offices in Paris and Tokyo to users who are active around the desk, in the house, and in the scene of communication!
PAPIER TIGER(15mm×7mm)
PAPIER TIGRE Waves

PAPIER TIGRE L'alphabet

PAPIER TIGRE Les numéros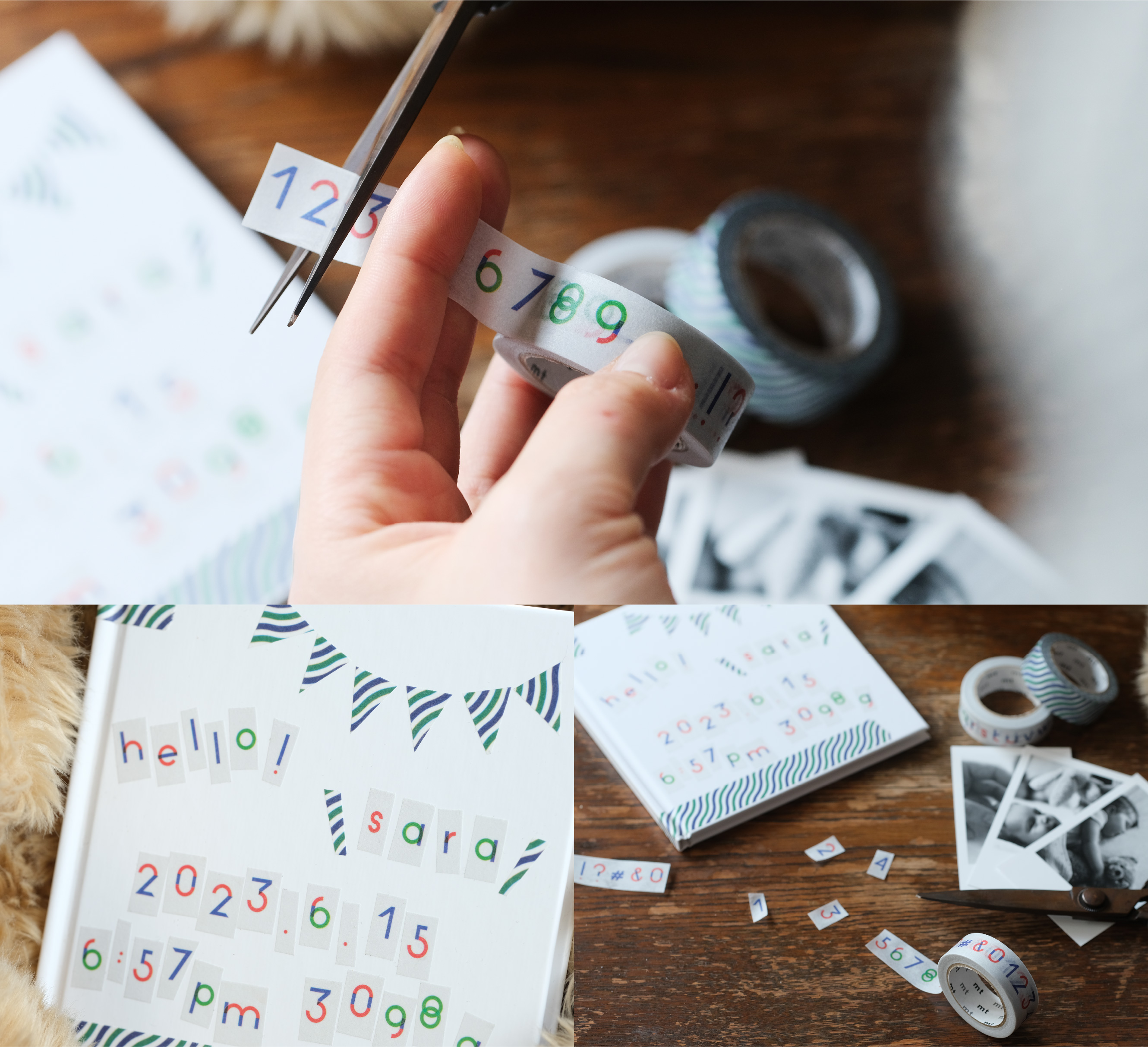 New brightly colored designs from OTTAIPNU, the textile brand by Masaru Suzuki.
These charming and brightly colored fabric patterns, which include animals and plants, will bring a natural smile to anyone who sees them. Impactful designs are drawn on them, ones that tell a story completely like a picture, when you pull a tape from the roll and stretch it out. A beautiful fabric-style mt has been born.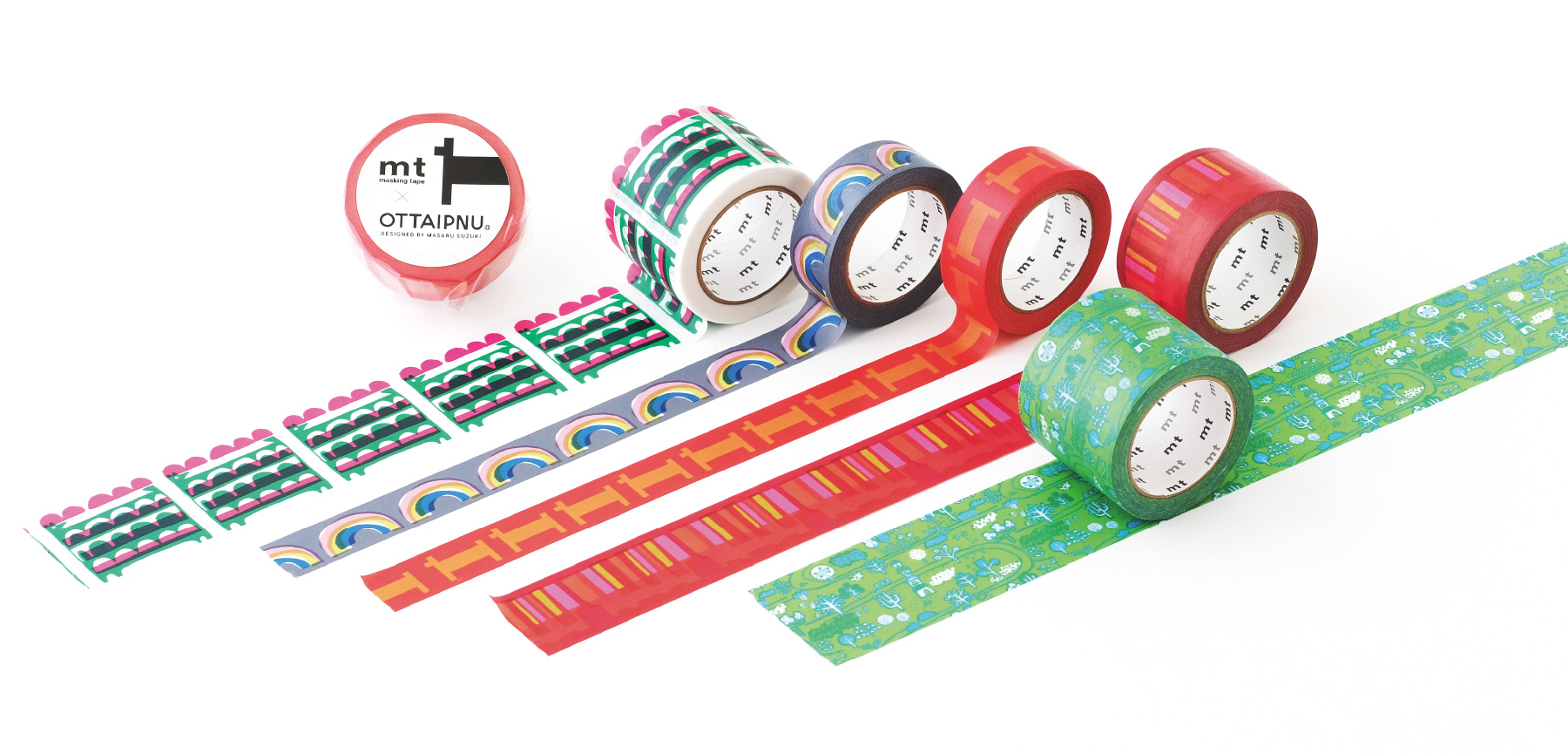 OTTAIPNU
OTTAIPNU is a textile brand developed by Masaru Suzuki since 2004. It was started with the theme of "Beautiful colors and patterns, which are not always necessary, are like vitamins penetrating people's hearts."
Focused on brightly colored print textiles, the collection is developed with the overflowing charm of the materials themselves, and includes items such as umbrellas, bags, towels, and handkerchiefs. In recent years, the brand provides not only textile designs, but also designs centered on colored patterns for various settings, such as furniture and architectural spaces.
The colors are viscerally beautiful, the patterns are charming, so the instant they catch your eye you can experience things that captivate you. The brand strives for designs that evoke these kinds of feelings.
OTTAIPNU
OTTAIPNU niji (15mm×7m)

OTTAIPNU stand (15mm×7m)

OTTAIPNU shima-kuma (25mm×7m)

OTTAIPNU tattan (35mm×7m)

OTTAIPNU kawa (35mm×7m)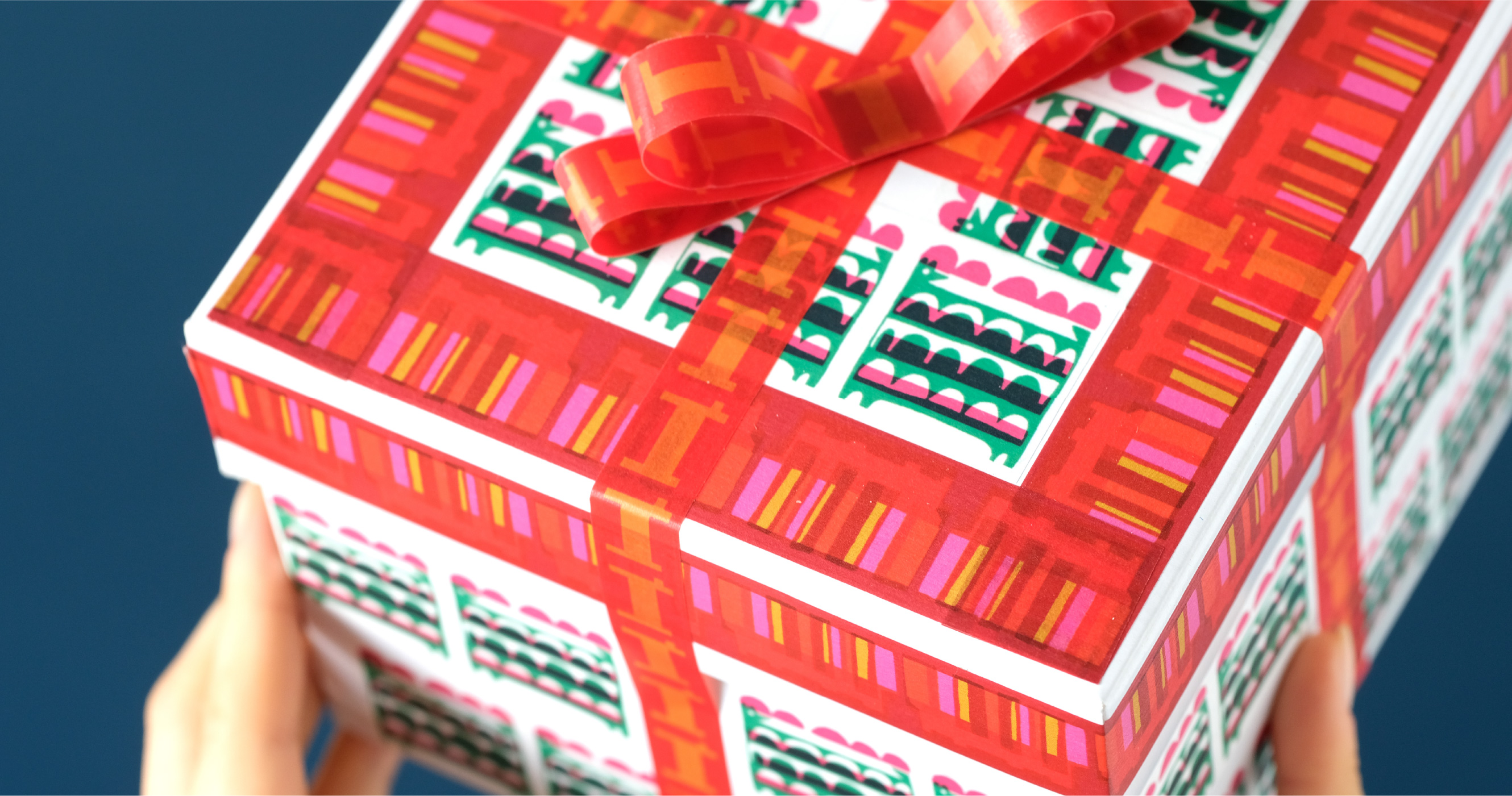 An art project managed by 2 artists, Yusaku Fujiwara and Chiaki Kurumizawa.
The artist couple, who live in Kurashiki City, have created the unique worldview depicted on these tapes. Previous mt designs have been recreated as a collage called "Flags." "Flags Leaf" features masking of leaves with various shapes. Enjoy this beautiful art in the palm of your hand.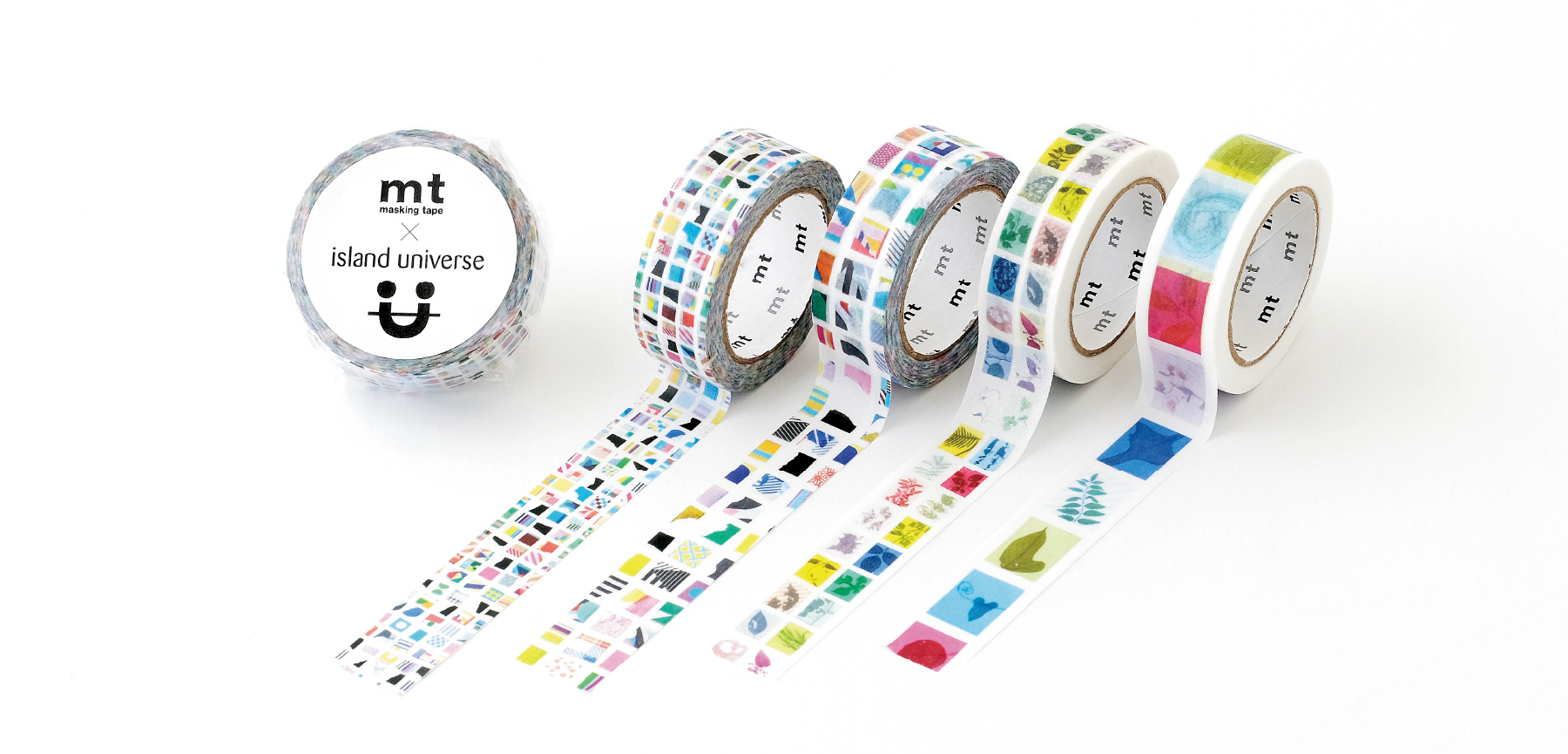 island universe
island universe is an art project handled by 2 artists – Yusaku Fujiwara and Chiaki Kurumizawa.
Yusaku Fujiwara publishes works that gaze at our world and lives with "difference, repetition, and transference" as key themes, and Chiaki Kurumizawa publishes works such as installations and photographs with the themes of "fluctuation and impermanence."
Along with their individual activities as artists, they also produce works that are conscious of the uniqueness of people and regions, and the connections with the worlds surrounding them. They also develop art events in Japan and overseas.
island universe(15mm×7m)
island universe Flags S

island universe Flags L

island universe Flags・leaf S

island universe Flags・leaf L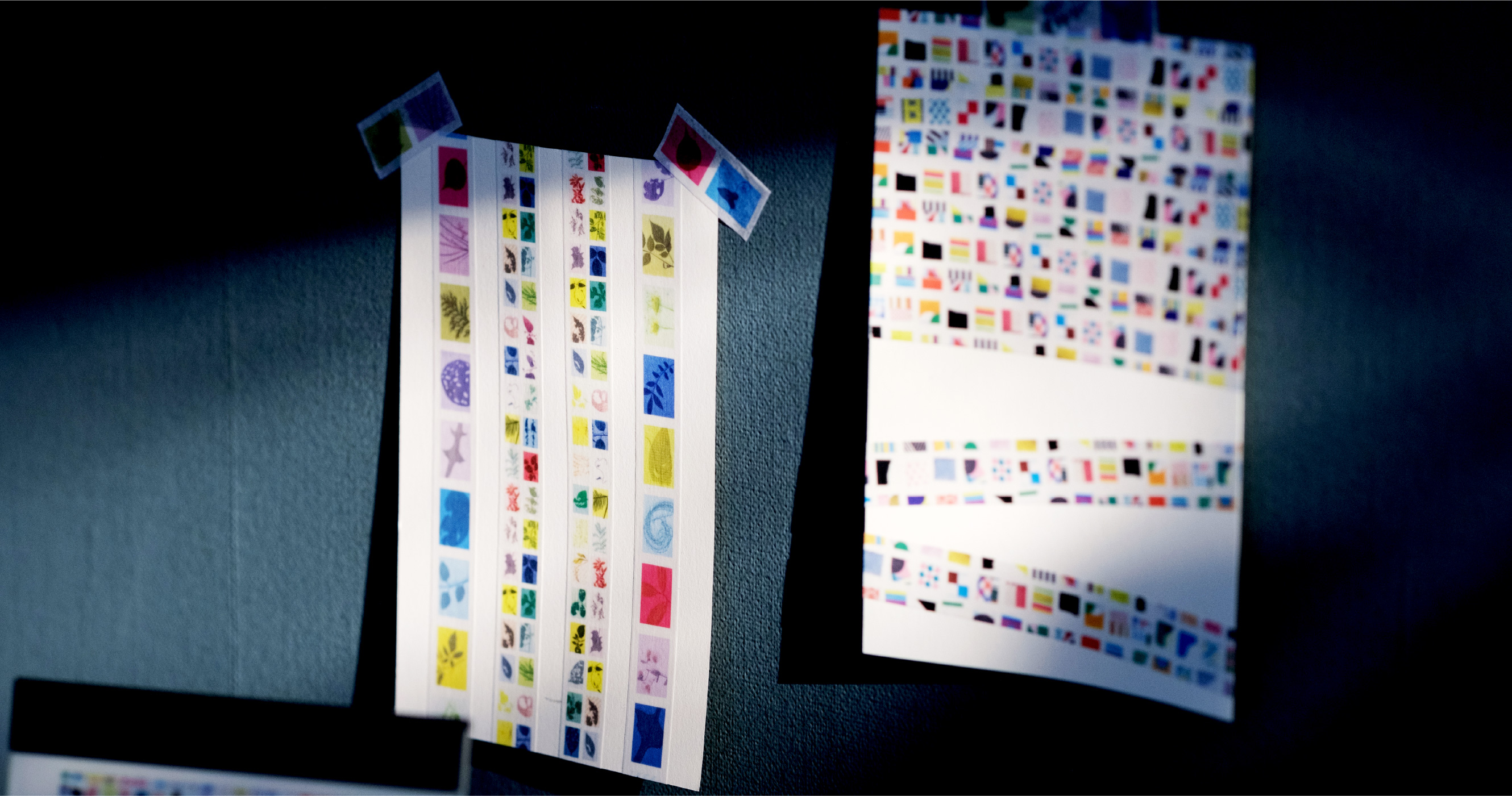 "Creatures" in the world of the forests, mysterious beings made by knitting.
The Scottish textile artist Donna Wilson has created these "creatures," mysterious beings made by knitting, as well as leaves and acorns. Immerse yourself in this picture book-esque forest world that is cute yet witty at the same time.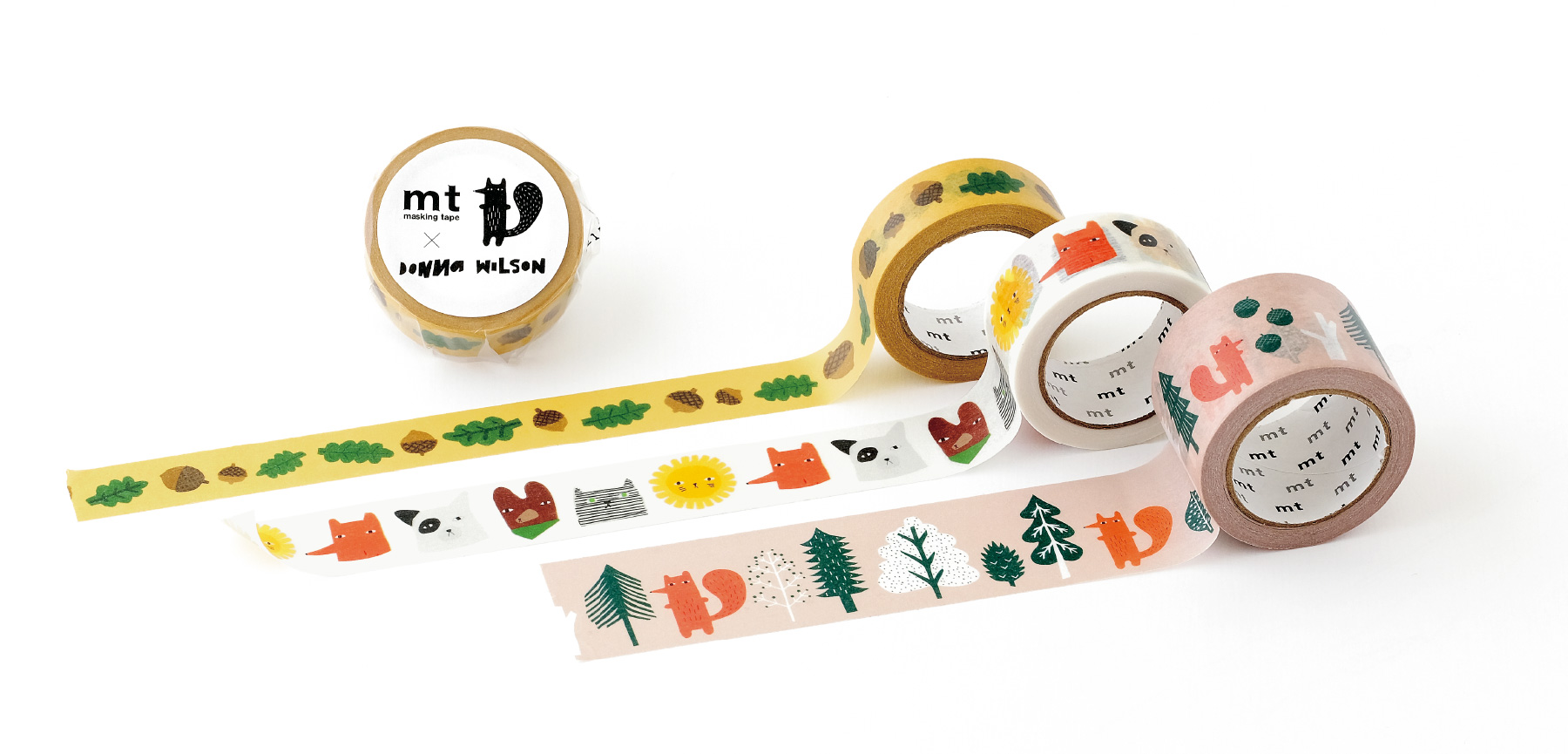 Donna Wilson
Textile Art Designer
Born in a small rural area in the northeast of Scotland, Donna was raised among nature and scenery, as well as her warm-hearted family.
In 2002, when she was studying at the Royal College of Art in England, said to be the world's most prestigious art university, she created her first knit plush toys. Since then, she has expanded the scope of her production activities, including making curious figures, enjoyable apparel, and unique furniture, and has shared these works with the world. She is currently based in London.
Donna Wilson
Donna Wilson Leaves and Acorns (15mm×7m)

Donna Wilson Creatures (20mm×7m)

Donna Wilson Cyril in the Forest (30mm×7m)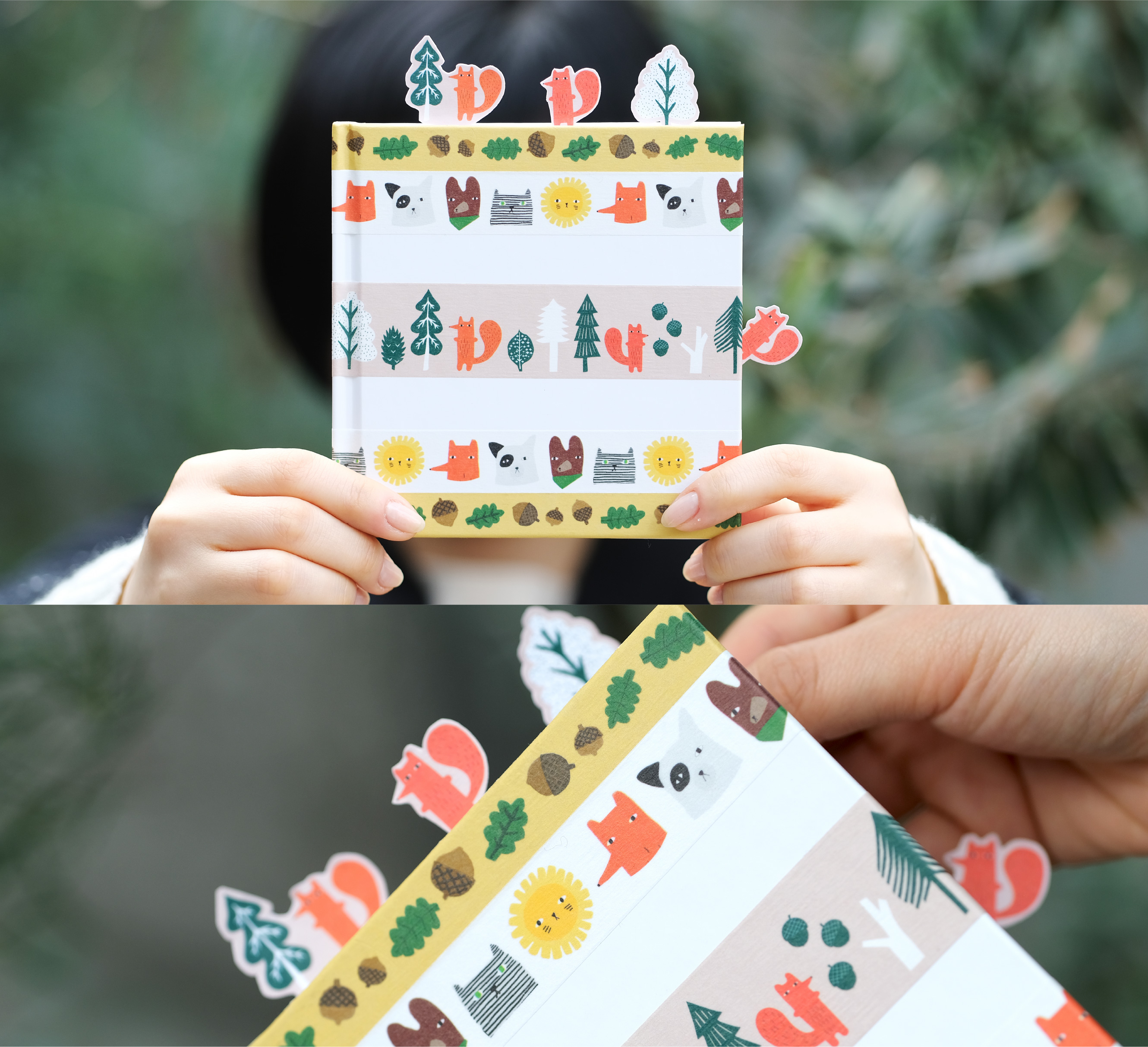 Now you can "write" more pleasantly and smoothly on mt.
We have developed a new lineup that has improved one of the uses of mt, the function that you can "write" on tapes. Now, a wider range of writing instruments can be used. Try actually writing and drawing on this mt with various writing tools. You may end up creating a new way of using mt.
※You can write characters with various writing tools, including water pens, oil pens, pencils, mechanical pencils, highlighters, and crayons. The time it takes for ink to dry may differ depending on the type of writing tool used.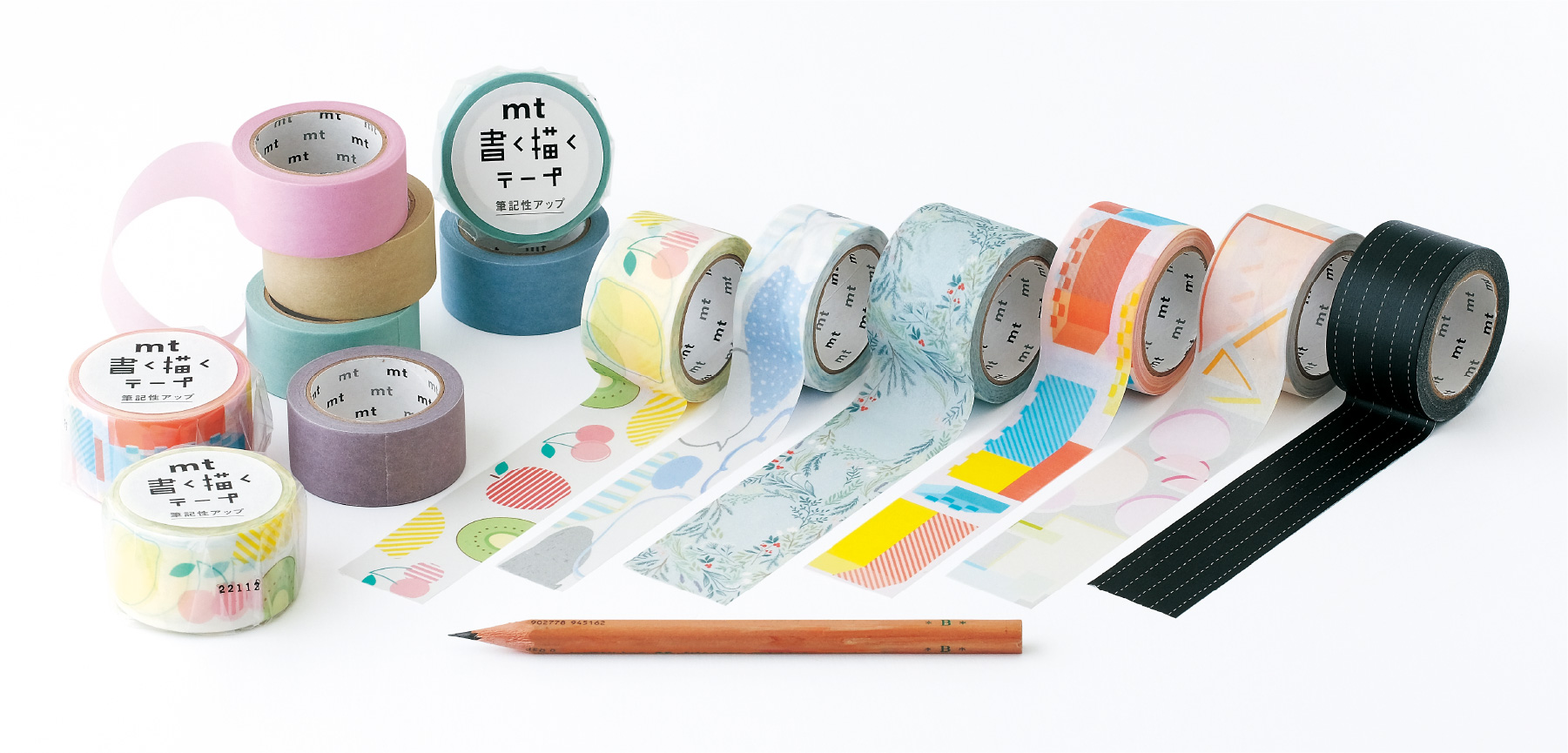 fab For Writing&Drawing
mt fab pastel pink (20mm×7m)

mt fab pastel green (20mm×7m)

mt fab dull blue (20mm×7m)

mt fab dull yellow (20mm×7m)

mt fab mocha (20mm×7m)

mt fab overlap speech balloon (20mm×7m)

mt fab dotted line black (25mm×7m)

mt fab geometry (25mm×7m)

mt fab seasonal fruits (25mm×7m)

mt fab block (25mm×7m)

mt fab plant (30mm×7m)